Local Insights - Good places to Eat & Fun Things to Do
** Please note we are working on this page at present - Updated information coming this way soon! **
Our favourite places to eat...
---
Let's start with the Nelson City Centre...
This area is the heart & soul of our vibrant, local community!
Hardy Street
---
There are two main areas here with a large number of eateries clustered at either extreme of this central CBD street.
Urban Oyster Bar & Eatery - 278 Hardy St. - urbaneatery.co.nz
Superb food & a great place for a drink, lunch or dinner! The oysters are great & the sliders are amazing!
We certainly have some favourite dishes, but you cannot go wrong here! Start with the oysters washed down with a Tohu Wine, TuTu cider or Hop Federation Golden Ale!
Mama San - Corner of Collingwood & Hardy Sts.- www.facebook.com/Mama-San-Nelson-100737244830652
South East Asian Street Cuisine.
DIY spring rolls or try their yummy basil pork-belly! Popular and can be loud at night (in proper street food fashion)… but we love this!
Wafu Bistro - 80 Hardy St. - wafubistro.com
Sushi chef & owner Yuki Takeoda brings Japanese art & cuisine all the way to Nelson.
As sushi, sashimi, seafood & Japanese food & culture lovers the team at Holiday Nelson are big fans of Yuki's food!
A friendly place to enjoy superb craft beer, local wines & good old home-cooked tavern meals in the heart of Nelson City.
They also have some great unique locations at 134 Milton St (the Original S&F)& 13 Beach Road, Tahunanui!
Trafalgar Street
At the top of Trafalgar Street is a great area for Al Fresco dining with a lot of restaurants & cafes to choose from!
---
Scrumptious American diner-style burgers joint! Yum!!!!
This restaurant is a local concoction & a great addition to our food scene. Burgers Culture is licenced so you can combine your burger with your favourite beer!
Hopgoods - 284 Trafalgar St. - hopgoods.co.nz
Wonderful fine dining!
Everyone in Nelson thinks so & we've never met a visitor that didn't agree! Smaller servings here - if you are a big eater ensure you take the entree & sides!
Eight Plates - 300 Trafalgar St. - https://www.eightplates.co.nz/
Seasonal small plates & beautiful drinks
Fantastic location opposite the steps of the Cathedral, perfect on balmy Summer nights to sit out front & enjoy the atmosphere. Opens for brunch, lunch & dinner!
Church Street
---
East Street - Vegetarian Cafe & Bar - 8 Church St. - eastst.co.nz
They say Making veges sexy since 2010!
Here at East we are 100% vegan. We are all about hearty food, tasty refreshing drinks and a great atmosphere.
Can't disagree with them! The food is terrific (meat or no) & this is a regular go to for us & many other food loving locals!
Arriba! Fresh & spicy Mexican food.
We love their ceviche and margaritas!
Other city spots...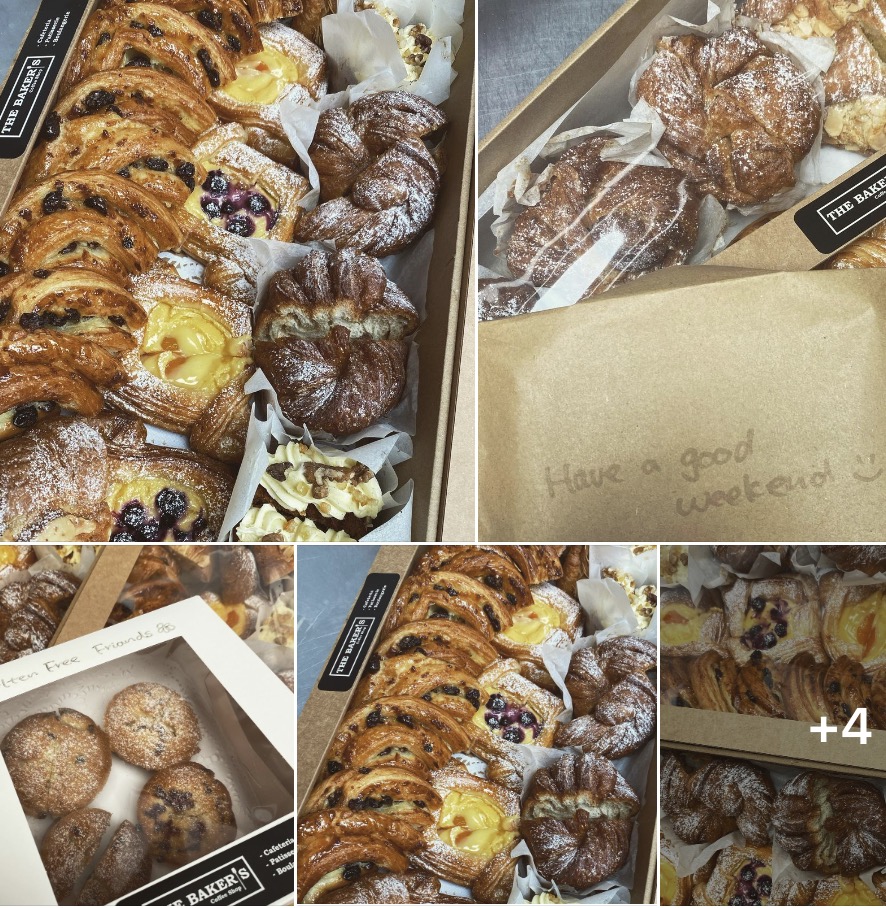 The Baker's Coffee Shop - 105 Collingwood St. - https://www.facebook.com/thebakerscoffeeshop/
Superb Inner City Cafe - Located on Collingwood St.
A cosy and friendly place, serving an impressive range of freshly baked treats - best danishes this side of the city! And tasty coffees!
Victus Cafe - 111 Bridge St. - https://www.facebook.com/Victusnz/
Seriously yummy food & Awesome staff - Located on Bridge St.
They say "Modern, friendly cafe in the heart of Nelson City serving up fresh food and the finest range of coffees". But we prefer to say, "Seriously yummy food & Awesome staff"!
Situated in the Nelson City Centre on the banks of the Maitai River
Away from the hustle & bustle, relax their river terrace in the sun or find a cosy chair inside. Delicious, seasonally inspired food, craft beers, wine from all over Aotearoa & locally roasted coffee. River Kitchen is open for breakfast too!
La Comida - Prego Mediterranean Foods - Whitby House, Buxton Square - m.comida.co.nz
This is a restaurant known for their really good pizza, but also for their mediterranean foods deli!
Nelson's favourite pantry is a great place to go for a quick idea for dinner, to grab Nelson olive oils & local cheeses, to enjoy a quick lunch or coffee break with fresh pastries, or a nice dinner with an italian flair.
Award winning Indian Cuisine
Best butter chicken anywhere. A popular dine-in (the outdoor area is fantastic in Summer) or takeaway restaurant... just be ready for a little bit of a wait if you are ordering out. We'd say allow a good 45minutes before you pick up your food... it's busy here.
Artisan a-la-carte & deli! Great stop for a coffee & sweet treat, a delicious crepe or a takeaway dinner.
This is latest successful brainchild of Nelson-famous former owners of French creperie La Gourmandise!
Nelson Waterfront
---
The Boat Shed Cafe - 350 Wakefield Quay - boatshedcafe.co.nz
A local icon in a sensational over-the-water Nelson waterfront location
Fine dining, great on a quiet night, book seats in the covered outdoor area over the water.
Great casual dining on the waterfront
Incredible seafood chowders & great shared platters. They often have a $6 Coffee + Muffin deal & while they are always busy, you can usually get in without a booking!
Nahm Thai - 322 Wakefield Quay - nahm.co.nz
Thai food with a seaside twist!!
Some of the dishes are a little sweet - as Thai food can be - but you will not be dissappointed. Anything pork is incredible, seasfood dishes & salads are out of this World & it's another spot where the views add to the already great atmosphere!
Raglan Roast Cafe - Rocks Rd Opposite Tahunanui Beach
Great for a takeaway coffee to sip on the beach. www.raglanroast.co.nz
Sublime Cafe - 211 Haven Rd. & 32 News Street
Roastery & Supply. Our favourite coffee beans in town! www.sublimecoffeeroasters.co.nz
211 Haven Road: coffee shop
32 News Street: Roastery and Brew Bar (we highly recommend this address but be aware there is no espresso coffee there!)
A bit further away...
The Honest Lawyer - 1 Point Road, Monaco - https://www.honestlawyer.co.nz
This English style country pub has become a Nelson icon with friendly service, a relaxing atmosphere & excellent food.
Brick Eatery - 30 Quiet Woman Way, Monaco Village - https://www.brickeatery.co.nz
Brick Eatery was fully refurbished in 2022, has a stunning outdoor area with plenty of space, outstanding food with a real focus on cooking local products with fire; wood, smoke and char - "the perfect combination", and an attitude to service that is professional and very welcoming.
Where to have a drink?
The Free House - 95 Collingwood St. - https://www.thefreehouse.co.nz
Craft beer & real ale from breweries all over New Zealand.
13 or so beers on tap. Also some terrific locally crafted cider & wine. Beers range from the weird & whacky to the sublime - start with a taster! You can also order Indian Cafe (collect from across the street) and The Free House will happily provide plates and cutlery.
Deville Cafe - 22 New St. - https://www.devillecafe.co.nz
Award-winning cafe with a reputation of fine food & local beer & wine!
Awesome live music during the Summer months on Friday nights.
The Boat House - 326 Wakefield Quay - https://www.theboathousenelson.co.nz
Great casual dining with live music on most Fri & Sat nights.
Huge over-the-water deck that's a great place for a drink with some finger food while you wait for the band to get fired up!
Two Thumb Brewing Co. - 32c New St. - https://www.twothumb.com/
Lively & great atmosphere most weeknights.
Purveyor of good company, great times & fine ales! Super-friendly staff & great pub food!
Kid-friendly places around the region that are great for everyone!
Beach Cafe
Tahunanui Beach (halfway along beach behind sand-dunes, can park there, playground right there & the beach over the dunes)
Founders Cafe
Founders Park (microbrewery with great beer & casual food, picnic tables, semi-fenced, playground!)
Jester House
Tasman on the Coastal Highway between here & Motueka (feed the eels), good food, playground (old-school equipment - supervision recommended!)
Grocery shopping...
Local food shopping information, supermarkets & specialty grocery stores
New World – Cnr Vanguard & St Vincent Sts, Nelson
Large modern supermarket with good general selections.
Fresh Choice – Cnr of Collingwood & Bridge Sts, Nelson CBD
Best for local product selection, fantastic wine & craft beer selections.
Countdown – St Vincent Street, or Halifax Street, also Putaitai St, Stoke.
Pak 'n Save – Cnr Croucher & Talbot Sts, Richmond Shopping Mall
Prego Mediterranean Foods – Collingwood St
Organic Wholefoods- Collingwood Street
Asian Food Store – Montgomery Square
Benge & Co - in Montgomery Square
Great fruit & vegetable selection in Nelson!
Hope 185 - Main Road in Hope
Fantastic selection of market fruit & vegetable produce
Wednesday Farmers Market 8.30am - 1.30pm at 23 Halifax St. - http://www.nelsonfarmersmarket.org.nz/
Saturday Market – from early at Montgomery Square between Trafalgar & Rutherford, Hardy & Bridge Sts.
Amazing market of local food & craft. A must do if you are in Nelson on a Saturday!
Guytons Seafoods – Northern end of the Waterfront on Haven Road
Things we locals like to do...
A local's guide of things 'not-to-miss' during your time in Nelson-Tasman!
Markets
You can't beat the famous
Nelson Saturday Market
in Montgomery Square. Saturdays 8am~1pm, rain or shine.The Nelson Saturday Market is famous for its longevity & for the high quality of its stalls. For almost 40 years, the best that the Nelson region has to offer in is available. A wide variety of food carts, arts, crafts, & produce.
Don't forget the Nelson Sunday flee market, second hands treasures & bargains. Same place every Sunday 8am~1pm.
Nelson Farmer's Market, 23 Halifax Street, Nelson. Wednesdays from 8.30am~1.30pm, rain or shine.
The Nelson Farmer's Market stalls are operated by local farmers, growers, bakers or makers! This ensures fresh, high-quality produce is available at reasonable prices. More info. here: http://www.nelsonfarmersmarket.org.nz/
Isel Twilight Market, Isel Historic House, Stoke.
Thursdays 4.30~8pm (during the Summer months).
Bring the family along & relax in the beautiful surroundings of Isel park. Indulge in the delicious cuisine of the street food carts. Find some treasures from the craft stalls & listen to the always fabulous live music. The market is dog friendly but they must be kept on a leash at all times. There is a plate station at the market where you can hire a plate to eat your meal from & avoid plastic waste.
Shopping
Little Beehive Co-op, 123 Bridge St, Nelson.
Little Beehive Co-op is made up of 20 local artists & small business owners showcasing their handmade products amongst a selection of other NZ made items.
Global Soap, 117 Nile St, Nelson.
A 'candy-store' of locally-made nice stuff - https://www.globalsoap.co.nz
Living Light Candles, Nelson Central Arcade, 219 Trafalgar Street.
Locally made & special - https://www,livinglightcandles.co.nz
Florist: Earthbloom Flowerstore, 2 Waimea Road, Nelson - 03 546 7283
https://www.earthbloom.co.nz
Gift Shop: Villarosa Maison, 4A Waimea Road, Nelson
https://www.villarosanz.co.nz
Massage & Beauty Treatment
Ima Asian Spa, 131A, Hardy Street, Nelson - https://www.imaspa.co.nz
Erban Spa, 14 Nile Street West, Nelson - https://erbanspa.co.nz
Check out historic South Street while you're near. There are some great places on Nile Street East: 'Being' Holistic HealthCentre, Mockingbird Studio, The Barbers…
About Beauty, 6 Point Road, Monaco Village - https://aboutbeauty.co.nz
Swimming Pools & Spa Pools
Riverside Pool, 25 Riverside, Nelson
Great for laps or a spa. There's also a gym there. http://www.clmnz.co.nz/riverside
ASB Aquatic Centre, 161, Salisbury Road, Richmond - http://www.clmnz.co.nz/richmond
25m lap pool, Wave pool, spa pools, fitness centre & much more...
Galleries
Bishop Suter Memorial Art Gallery Te Aratoi o Whakatu
is the public arts gallery of the Nelson Tasman region. It is also an arts complex that includes a theatre, a nice cafe that overlooks the park & a store. The Suter offers a dynamic range of exhibitions & education programmes. It is located at the edge of the Queen's Gardens. The gardens are beautiful & well worth an explore.
The Provincial Museum - https://www.nelsonmuseum.co.nz.
on the corner of Trafalgar & Hardy Streets is great fun & educational, with temporary exhibitions set up every 1-2 months.
Walks
So many to recommend!
The Grampians Reserve - about 1.5 hours return.
Starts from the top end of Collingwood Street. From there it's a good climb to wonderful views over the whole district. There are many great tracks to explore up there, & free apples & other fruit in season. Google nelson.govt.nz Grampians walkway for a map.
The Maitai River Walk, as far as you want to go!
The Maitai River flows from the Nelson Hills down to The Haven. A great walking path follows it right up into the hills. You can join it anywhere along. our favourite part begins at the Bridge Street bridge. Wander upstream for an hour or so, very pretty. It's also nice going down steam, pop in at the River Kitchen Cafe, & further down is the Nelson Central library. Then walk or cycle down to the marina… it is so picturesque at dusk. Some good eateries down there too & around the Haven.
The Centre of New Zealand - 40 mins walk.
A must do! it's not really the true Centre, but is a handy hill fairly near it! An easy 20~30 mins walk to panoramic views over Nelson City. You can also wander along towards Waters Bluff & come down towards the Miyazu japanese gardens. A round trip would lead you past a Nelsonian favourite pub: Sprig & Ferns.
Fairfield House Gardens & the old graveyards of Fairfield park, & the Queens Gardens between Bridge & Hardy Streets.
Quiet wanders & great places to explore. Both lovely places for a picnic.
Wakapuaka Cemetery on Atawhai Drive is lovely to walk around too, with great views of the Haven. there's a nice cycleway out to there & beyond.
Cycle ways & Mountain Biking
Hire a bike from:
Nelson Bike Hire - 37-39 Halifax Street, 0800 292 538
The Bike Station - 54 Vanguard Street, 03 545 7552
Gravity (mountain bikes) - 140 Bridge Street, 03 545 8484
Head out on the Railway Reserve. This is one of Nelson's greatest infrastructural assets, providing an almost unbroken length of off-road shared pathway linking Nelson, Stoke & Richmond. as the name suggests, the pathway follows the historic alignment of the Nelson-Glenhope railway. It is a highly popular & safe route for commuters, students & recreational users. there are numerous road crossings, access ways & other pathways connecting to Railway reserve Pathway. See https://www.nelsontrails.co.nz. Check out the Great Taste Trail on their website too.
Nelson is a top destination in New Zealand & even worldwide for mountain biking!
Ask the super nice staff at Gravity for some knowledgeable advice, download the Trailforks App on your mobile phone, & get out amongst the hills to explore Dun Mountain, Codgers, or the Kaiteriteri Mountain Bike parks. Fresh air & mud sometimes complete the Nelson mountain biking experience.
Rivers
Swim in the Maitai, or explore the Aniseed & Lee River Valleys. Perfect & refreshing in Summer. Don't forget your sand flies repellent!
Make sure you have a famous Nelson real fruit ice cream somewhere… Berrylands on Appleby highway is great: 50 mins by bike, 16 mins by car. In Summer you can pick up your own berries there too!
Beaches
Tahunanui ("Tahuna") Beach
is our closest beach. It's a beauty! For sunbaking head toward the dunes at the end of the beach. Great for an evening walk at low-tide or a Summer swim! Stroll along the beach & come back on the walking trail via Mr Whippy ice cream truck or the local Appleby Farms ice-cream truck & its cow to cone philosophy!
Stand-up Paddle Boarding from Tahunanui Beach. Stop off at Haulashore Island, Check out the Boulder Bank & Fifeshire Rock - please be mindful of the birdlife!
Swimming off the steps - Richardson Street from mid~high tide.
Fun park, Natureland, go-karts, roller-skating rink, hydroslide, laser tag & much more….
Also a great kite-surfing spot!
Rabbit island
is another popular & beautiful beach. You can cycle there on the Great Taste Trail - about 1.5 hours, or 25 mins by car. Free public barbeques, heaps of grass & trees & an expanse of beach. In Summer, you can also cross with the little ferry boat from Rabbit Island to the Mapua Wharf for a nice lunch or coffee (bikes can cross as well).
The Boulders Bank
Bike (40 mins) or drive (12 mins) along Boulder Bank Drive or via The Glen. It is just lovely out there, a special place! The Cable Bay walkway extends from Glenduan to Cable Bay. The Hilly coastal track passes through a mix of pasture, pine forest & native forest, & provides impressive views of Tasman Bay & Cable Bay - 2.5 hours one way. https://nelsontrails.co.nz/cablebay-walkway/
Further afield
Kaiteriteri Beach
about a 1hr Drive - the region's most famous beach! On a hot day, wait for the tide to empty from the estuary & enjoy a hot swim in the current under the bridge!
Wharariki Beach
about a 2hr40min drive - near Farewell Spit & an absolutely epic place. Aim to be there at low-tide, take the short walk in. This will land you in just the right spot to see the magic of this place. Head to the other end of the beach to explore the caves. & back along the longer route.
And the list goes on!
Blenheim Vineyards
Marlborough Sounds
Cable Bay & the Happy Valley Adventure Park
Mapua & Rabbit Island
Abel Tasman National Park
Golden Bay
Nelson Lakes National Park
Kahurangi National Park
All these places are best researched at the i-Site Visitor Information Centre, corner of Trafalgar & Halifax Streets. The staff there are great & can help organising tramping information, booking kayaks trips, buses, tours, accommodation, activities, etc, etc…
Also some great deals, things to do, itineraries and more on the Nelson Tasman Region website: https://www.nelsontasman.nz/visit-nelson-tasman
The 'What's On Nelson' website gives a good idea about what is happening right now in Nelson & surrounds https://www.eventfinda.co.nz/whatson/events/nelson
And how about grabbing a nice Special for a local experience, a coffee break or a romantic dinner: https://new.grabone.co.nz/nelson-marlborough/c/culinary-cravings?
Rainy days in Nelson? - Yeah, nah we don't have those…
The sun pretty much always shines brightly here in "Sunny Nelson" but here are some ideas for fun things to do on rainy days!
Pic's Peanut Butter World
Take a tour of the famous Pic's Peanut butter factory, learn how to make your own peanut butter, hear, smell, taste, and enjoy a coffee at the PC Eatery. 49 Saxton Road West. www.picspeanutbutter.com
Nelson Classic Cars Museum - 1 Cadillac Way, Nelson
150 immaculate cars, 100 years of motoring + Little Engine Eatery Cafe www.nelsonclassiccarmuseum.nz
State Cinema
Catch a movie at our local cinema directly opposite the i-Site & the City Council on Trafalgar St. For the latest in what's showing see: www.statecinemas.co.nz
Elma Turner Library
Remember books? These guys have shelves & shelves of reading entertainment! Unlimited Wifi also available for those who don't read paper. Closed on Sundays. Hope it doesn't rain on a Sunday!
Christ Church Cathedral
At the top end of Trafalgar St on Church Hill, the cathedral is open all day from 9am for visitors.
Nelson Provincial Museum
Entry by donation. Come on, expand your Nelson horizons!
Suter Art Gallery
See Galleries section.
Pamper
The rain is a perfect excuse to treat yourself to a facial, massage or beauty treatment. A great way to unwind after days of traveling! See Massage & Beauty treatment section or ask i-Site staff for options.
Brewery visits
Nelson is the craft brewing capital of New Zealand, so check out the local flavours at boutique breweries at Founders Park, Sprig & Fern, The Free House, Bays Brewery in Pascoe St, McCashin's & Lighthouse in Stoke, Golden Beer in Mapua, Hop Federation in Motueka or Totara in Wakefield. Pick up a Craft Beer Trail Map at the i-Site.
Founders Heritage Park, 87 Atawhai Drive, Nelson.
Replica historic Village, stroll to character streets & gardens, meet resident artists, ride the train, browse the extensive museum displays or have a craft beer tasting tray with lunch at Founders Brewery & Cafe. Open 7 days. Admission fees to Heritage Park apply.
Book a guided Tour
Art & Crafts Tour, Heritage Trail to visit historical houses, streets & gardens, & Wine/Beer/Art Tours available. Ask at the i-Site for options & prices.
Indoor Water Fun
Have a splash at one of the Nelson Tasman's indoor pools - see Swimming Pools & Spa Pools section.
Road Hogs Mini-Golf, 15 Selwyn Place, Nelson.
Fantastic indoor mini-golf with a glow-in-the-dark section. Open 7 days 12~5pm.
Flip out Trampoline Arena, 14 Pascoe St, Nelson.
Closed on Sundays.

Action Entertainment Centre, 30 McPherson St, Richmond.
Challenge family & friends to a game of Ten Pin Bowling, Mini-Golf & multiple indoor Sports. Open 9.30am~late with cafe & licensed bar.
Ngarua caves
Take an exciting cave tour to a unique underground world. Drive to the top of Takaka Hill & embark on a 45 mins informative guided cave tour. Suitable for all ages.